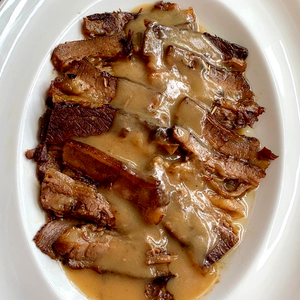 Simply decadent.

This dish is perfect for celebrations and special occasions. Though also great for Sunday night where good food makes family time all the warmer.

A 500g tub of this ready-to-heat offering is good for 3-4 pax.
Herb-Roasted Beef Belly
Delicious tender beef strips, generous grave. My fam loved it. So I ordered again.
Perfect
The beef belly was and the gravy just perfect. I laid the beef strips on a baking pan, covered w foil and heated for 10- 15 minutes at 150-175C. Sauce was heated in a saucepan over the stove. But for the leftovers the next day, we just poured the gravy over the beef and heated in oven fir about 5-10 minutes. Still perfect..
Herb Roasted Beef Belly
Very tender, melts-in-your-mouth goodness…simply delicious.
Thanks so much for your feedback, Jerome! Absolutely thrilled that you liked it!