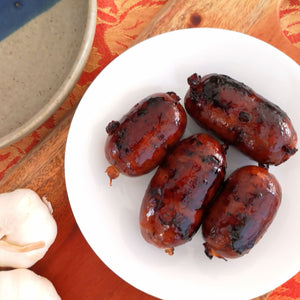 The Batutay is unique in that unlike longganisa made in other parts of the Philippines, this one from Cabanatuan is made from Beef.
The variant we carry is "de Hamonado." So aside from being Garlicky and slightly spicy, it's also sweet!
Our customers from Nueva Ecija can testify that this stuff is legit!
Order your 500g pack for just P260 to find out for yourself!
Good quality beef longganiza
Tried ordering this for the first time and I like this product. Mildly spiced and perfectly suits my palate. Product was delivered promptly. Thank you.
Batutay de Hamonado Longganisa (Beef Longganisa)
nothing special
my honest opinion is that the taste of the longganisa is just okay for me and my kids, nothing special. Delivery is fast and convenient 'though. I used to buy the batutay and vigan longganisa at Landers but it's no longer available, the BEST OF NORTH & SOUTH I think, for me it tasted better.
Authentic Batutay
I order this always. Truly, a beef longganisa. The best one I've tried or eaten so far.
Thank you very much for always ordering from us, Jun! Really glad you like this! :)